A Unique Butterfly Experience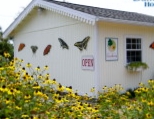 Come enjoy a unique experience with native Florida butterflies close up as they feed on native and Florida-Friendly plants. Witness hungry caterpillars munching on their favorite food. Peek under a leaf to observe pin-sized eggs or watch a butterfly emerge from its chrysalis. Learn more about creating your own butterfly garden.
The Panhandle Butterfly House is an educational and interactive exhibit. It fosters a better understanding of butterflies and increases awareness of the natural habitat in which butterflies thrive.
Admission is by donation.
Happening Now
Volunteers are working behind the scenes preparing for our spring opening.

Recruiting interested community members to volunteer to contribute to our mission. If interested, please see the Get Involved page.
Check us on Facebook by clicking on the link in the sidebar for timely updates.
Opening Information
Opening for the 2016 season on Saturday, May 7.
The event will begin at 10:00 AM and last until 3:00 PM.

You will have the opportunity to purchase plants for your butterfly garden, shop our vendors, and our own Monarch Market.

Santa Rosa County Master Gardeners will be available to answer your general home gardening questions.
Location
We are located in Navarre Park at 8581 Navarre Parkway, Navarre, Florida. Highway 98 at the foot of the Navarre Bridge. See the About Us page for a map.