Our Mission
line
Increase the public's awareness of
butterflies and the important role
they play in the environment.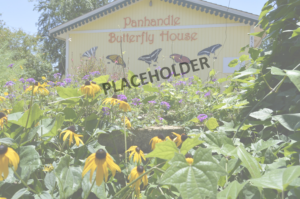 About Us
The Panhandle Butterfly House
For more than two decades, The Panhandle Butterfly House and Nature Center has been enjoyed by countless locals, tourists, students, civil/community groups, and more. The goal of The Butterfly House is to enhance the environmental awareness of its visitors by connecting them with Florida native butterflies, botanical gardens, and nature trails.
According to the Smithsonian Institute, there are approximately 17,500 butterfly species world-wide, about 750 of those can be found in the United States. Throughout the United States, there are numerous entities and organizations that are committed to showcasing stunning butterflies and their role in nature through butterfly vivariums (or conservatories). However much like the Palos Verdes Blue (the rarest butterfly species in the world), The Panhandle Butterfly House finds itself in a unique class of vivariums: it is the only one in the Florida Panhandle, and it only displays butterfly species that are native to the state of Florida. Furthermore, the next closest butterfly houses are located in New Orleans, north Alabama, north Georgia, and one in Gainesville, Florida.
As a joint program of Keep Santa Rosa Beautiful (KSRB) and the University of Florida IFAS Extension, The Panhandle Butterfly House is classified as a 501(c)3 non-profit organization through KSRB, while also receiving educational oversight from the extension office.
Founded by Jack and Fonda Weatherell in Navarre.
Rebuilt the PBH following Hurricanes Ivan and Dennis.
From 2007-2014, increased annual visitors by nearly 30%.
Celebrated its 20th anniversary of butterfly education.
Temporarily closed in search of a new home.
Relocated to T.W. Jones House in the Milton Historical District.
Selected as an Impact100 grant recipient.
take action
Our Climate and Communities Can't Wait. Join the Resistance with a Gift to GreenPlanet.
take action
The Life Cycle
of the Panhandle Butterfly House
Stay Tuned with Our Updates
signup for newsletter