The Panhandle Butterfly House is closed for the season. We thank you for a wonderful 20th season and Monarch Madness Festival in 2017. We will reopen in the Spring of 2018. Until we reopen, please come and enjoy our gardens and watch for information on our reopening date and "Before We Open" educational programs on our Facebook page by clicking on the link in the sidebar on the right. Again, thanks for a wonderful year.
A Unique Butterfly Experience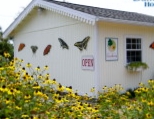 When we are open, come enjoy a unique experience with native Florida butterflies close up as they feed on native and Florida-Friendly plants. Witness hungry caterpillars munching on their favorite food. Peek under a leaf to observe pin-sized eggs or watch a butterfly emerge from its chrysalis. Learn more about creating your own butterfly garden.
The Panhandle Butterfly House is an educational and interactive exhibit. It fosters a better understanding of butterflies and increases awareness of the natural habitat in which butterflies thrive. Promote and Protect the Pollinators!
Admission is by donation.
Happening Now
Educational programs are being planned for 2018. Look for information on these events on our Facebook page by clicking on the link in the sidebar. Feel free to give us ideas on new programs. We are listening!
We are always looking for butterfly loving volunteers to join in our mission. If interested, please see the Get Involved

page for more details.
Monarch Madness
Our year-end event, Monarch Madness, was held October 20th and 21st.
The event featured Monarch tagging in association with Monarch Watch, a butterfly release, educational kids crafts, the Monarch Waystation Journey, games, educational exhibits, and vendors. If you were there, log onto our Facebook page and tell us your favorite activity.
Location
We are located in Navarre Park at 8581 Navarre Parkway, Navarre, Florida. Highway 98 at the foot of the Navarre Bridge. See the About Us page for a map.