The Panhandle Butterfly House Life Cycle
Two Decades of Growth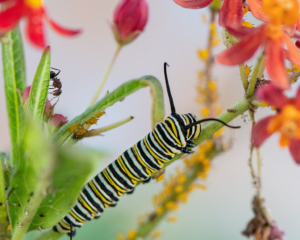 During its two decades in Navarre, The Panhandle Butterfly House welcomed visitors from more than 40 different states and 15 different countries to experience nature and the beauty of the butterfly. Not only did The Panhandle Butterfly House team spend time educating on-site visitors, but they also accepted invitations to visit schools and community groups to raise awareness about the beautiful creatures and their natural habitats.
The previous location weathered storms, rebuilt following hurricanes, and enabled roughly 14,000 people to visit each butterfly season. Alas, the property and little yellow house served its purpose well for many years, but new circumstances displaced The Panhandle Butterfly House and required a change to be made for the future.
The Panhandle Butterfly House & Nature Center continues to be a  program of Keep Santa Rosa Beautiful.